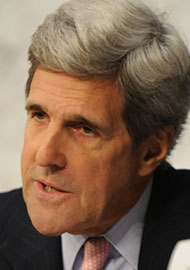 4 - John Kerry
2012 Rank: 16
Secretary of State
---
Taking over the reins at the State Department in early 2013, Kerry had large shoes to fill. His immensely popular predecessor, Hillary Clinton (No. 43),
had helped restore the department's significance after it had drifted toward disuse in the George W. Bush administration. But where Clinton focused on
improving the agency and relationships with allies around the world, Kerry has become a foreign-policy juggernaut in the Obama administration,
responsible for restarting the Middle East peace process, negotiating to end Syria's chemical weapons program and working toward the demise of Iran's nuclear program, amid other diplomatic crises. Kerry's weapons are a rare willingness to put his neck on the line for international issues and an iron stomach for marathon direct negotiations. He spent nearly 11 hours over two days personally negotiating a tentative deal to keep US troops in Afghanistan past 2014. A Vietnam vet-turned-war-protester-turned Massachusetts senator, Kerry believes that US military force must be applied only as a last resort, or very carefully — to achieve the nation's goals.
Categories
Policy
Middle East
Afghanistan
Congress