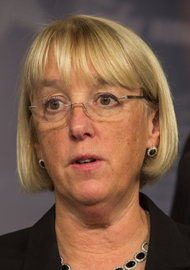 17 - Decision Drivers
---
Capitol Hill is full of movers and shakers, but few will have a bigger impact on how much the US spends on defense and how it spends it than the House-Senate Bipartisan Budget Committee. Sen. Patty Murray (pictured), D-Wash., chairwoman of the Senate Budget Committee, and her House Budget Committee counterpart, Rep. Paul Ryan, R-Wis., issued a compromise deal that cut government spending and raised revenues to help lift spending defense caps and give about $31 billion in sequestration relief over the coming two years. Passage by Congress would allow for a return of normal budgeting and avert another crisis with the nation's borrowing limit that would otherwise expire in January. Lawmakers and analysts say Ryan and Murray are now symbols of bipartisanship, and as Washington tries to remember how to cut deals, the duo likely will be front-and-center.
Joining them almost certainly will be longtime Senate Armed Services Committee member Sen. John McCain, R-Ariz., one of Washington's last artful dealmakers. He routinely dines with Obama, talks strategy with Senate leaders, badgers Pentagon brass and courts the press. McCain has rebounded from his 2008 presidential election loss, and again is one of Washington's ultimate insiders, resurgent in 2013. From the pursuit of a "grand bargain" fiscal deal to shaping US foreign policy to efforts to save the 2014 defense authorization bill, McCain was a major player. Expect that to continue in 2014. In addition, Senate Appropriations Committee Chairwoman Sen. Barbara Mikulski, D-Md., remains a strong and powerful voice against sequestration from a pro-defense state.
Several young guns in each chamber also are gaining respect in defense circles and on the Hill. Leading this group is SASC member Sen. Tim Kaine, D-Va., joined in the upper chamber by McCain's "Three Amigos" colleagues Sens. Kelly Ayotte, R-N.H., and Lindsey Graham, R-S.C. On the House side, keep an eye on rising GOP star Rep. Mike Turner, R-Ohio, who controls the gavel of the influential HASC tactical air and land forces subcommittee and the panel's vice chairman — and its likely next chairman — Rep. Mac Thornberry, R-Texas. Rep. Randy Forbes, R-Va., chairman of the HASC seapower and projection forces subcommittee, is a voice of reason and bipartisanship.
Categories
Congress
Money
Policy
Industry