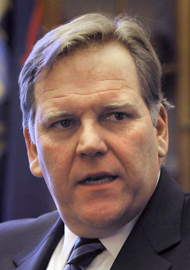 21 - Rep. Mike Rogers, R-Mich.
2012 Rank: 15
Chairman, House Permanent Select Committee on Intelligence
---
One of Obama's frequent critics on national security issues, Rogers has also built a reputation for being less partisan than many of his House counterparts and more willing to quietly work with the White House on key issues. Rogers criticized the administration over Syria, noting that it let Russia essentially call the shots on President Bashar al-Assad staying in power by playing into a deal that solved a short-term problem and created a long-term one in its place. But Rogers has sided with the administration over the controversial NSA surveillance programs disclosed by former agency contractor Edward Snowden (No. 28). That even-keeled steadiness and reputation for focusing on getting things done rather than scoring political points is why Obama considered Rogers for director of the FBI to succeed Robert Mueller on his retirement.
Categories
Congress
Intelligence
Policy
Money
Afghanistan
Middle East